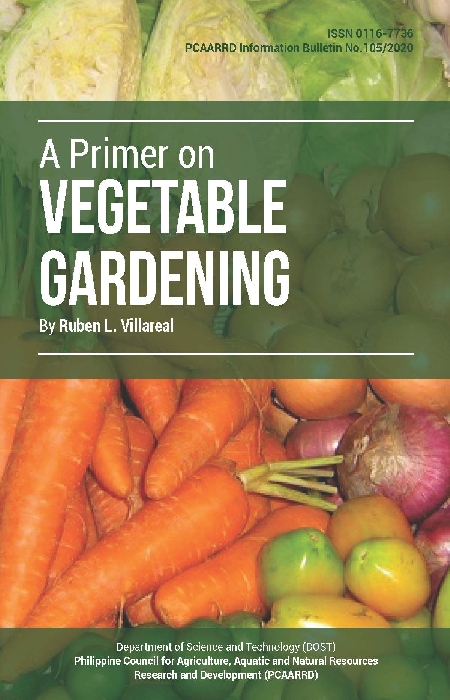 ---
Summary
The book is essentially an updated revision of Villareal, Shanmugasundaram and Chadha's A Primer on Vegetable Gardening, first published in 1993 by the Asian Vegetable Research and Development Center. In 1997, this book was translated into Filipino and other major languages of the Philippines, i.e., llocano, Bicolano, Cebuano, and Hiligaynon and of other countries like Bangladesh and Cambodia. The translated versions aimed to facilitate easy reading, better comprehension, acceptance and, finally, wide-scale adoption of vegetable gardening.
In 2009, the book was revised and reprinted by the Department of Agriculture in support of the "Programang Gulayan ng Masa," which aimed to increase vegetable production by encouraging practice of home gardening or planting of vegetables in backyards or in containers.
The topical sequence and presentation of the first edition of this book have been retained. However, the topic on organic control of pests has been included and a section on composting has been expounded to include vermicomposting. The topic on hydroponics as a simple and practical method of growing vegetable has also been added.

Essentially, the primer contains simple and precise information on vegetable gardening. It was written, initially and primarily, for garden teachers with the objective of making them become more effective in sharing their knowledge and skills to school children. In turn, the children can be change agents at both the family and community levels. Likewise, it was written, secondarily, for agricultural extension workers and other readers who are in need of a reference on vegetable growing that is both informative and interesting.
The reprinting of this book's revised edition was fast tracked by the current coronavirus disease (COVID-19) global pandemic where food sufficiency and security are paramount concerns although it is part of the government's goal,
---
Other Details
Call Number -
Joint Authors - Villareal, Ruben L.

General Notes -
Subjects -
---
JEFFREY ROLDAN SOFIA&nbsp&nbsp&nbspAug 13, 2023
Donave Francisco&nbsp&nbsp&nbspAug 18, 2023
---